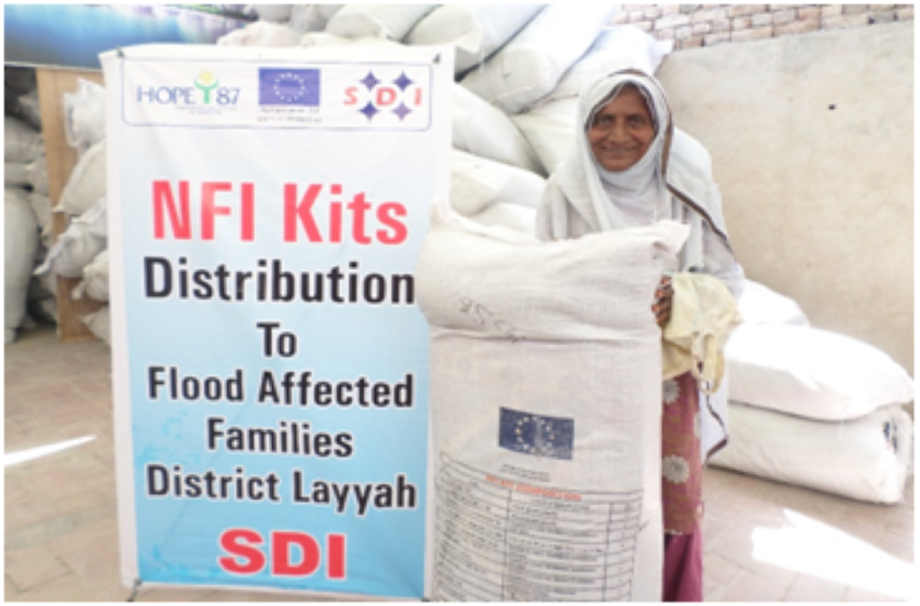 Region:
District Layyah, Province Punjab.
Project Duration:
Saturday, August 1, 2015

to

Sunday, November 1, 2015
Project Description:
Floods 2015: July 2015, flash floods triggered by cloudburst inundated several parts of Pakistan ranging from the Chitral valley in the country's north to parts of southern Punjab and the mountainous areas of Baluchistan. According to the NDMA and PDMAs reports, the monsoon season affected a population of around 1,572,191 all over Pakistan. more than 4,111 villages affected, with 238 reported deaths and 232 persons injured. The flooding caused damage to 10,716 houses, crops and infrastructure, with KP and Punjab amongst the Provinces worst hit.
Among the affected areas, District Layyah was one of worse affected district of Punjab province. The water level in Indus river raised up, resultantly district Layyah was affected by high flood. High-level flood (500,000 cusec) in the river Indus was reported in 150 villages of 70 Mouzas in 11 riverine union councils of the district Layyah, Punjab, affecting 14,411 families and 151,419 individuals in it. The floodwater resulted severe damage to standing crops of sugarcane, rice, cotton, sesame seeds, vegetables, mango orchards, moong and green fodder on more than 200,000 acres in the district.
HOPE'87 Pakistan through its local partners Sustainable Development Initiative (SDI) at District Layyah conducted a rapid needs assessment in August 2015. A total of 5,200 NFI kits were distributed to 5,200 families in District Layyah. These NFI kits were received from another organisation as in-kind donation.
   Composition of NFI Kit:
2 Plastic Jerry Can, 2 Bucket with Handle, 1 Plastic Mug, 1 Metal cooking pot with lid, 1Tawa (Break making Disc Griddle), 1 Metal Cooking Pot with lid, 6 Metal Dinner Plates, 6 Metal Mug, 1 Cotton Sanitary cloth, 1 Wooden Cooking Cloth, 2 Blanket, 2 Plastic Sleeping Mat, 10 Dettol Soap Bars, 1 Latrine Jug, 1 Water Cooler, 10 Dish Washing Detergent
These kits helped the families to restore their living standards by utilizing the provided items. Moreover, the Non-Food Items (NFI) kits contained a no. of items of daily use that were very useful for the beneficiaries during the hard time.